The Genealogy of Morals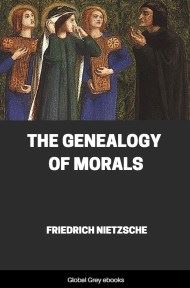 Format: Global Grey edition
Pages (PDF): 135
Publication Date: This translation by Horace B. Samuel, 1913
Illustrations: No
Available formats: Global Grey PDF
(Download link is just below the donate button)
Book Description:
Contains a Preface and three interrelated essays that expand on the concepts he laid out in Beyond Good and Evil. The essays are: First Treatise: "'Good and Evil', 'Good and Bad'"; Second Treatise: "'Guilt', 'Bad Conscience', and Related Matters"; Third Treatise: "What do ascetic ideals mean?".
---
These books take me anywhere from 2 to 10 hours to create. Only a tiny minority of people donate (less than 1%), yet thousands of books are downloaded every day. There is no big company behind this site – it is just me, and I really need the support of my visitors to help keep this site running. So if you feel I have helped you by providing this ebook, please consider making a small donation payment of £1.00 or whatever you can.. Thanks – Julie 🙂
Donate with PayPal
Donate with your credit/debit card
Support the site using your PayPal account – or pay with your credit/debit card as a guest (no PayPal account needed).


Support the site using your credit/debit card via Donorbox, using the secure payment gateway, Stripe. (Donation box will open here in pop-up – no taking you away from the site).
I will be converting this into epub and Kindle ebook soon, but if you want it done now, contact me and I'll do it as soon as possible.
---