The Fairy Tale of the Green Snake and the Beautiful Lily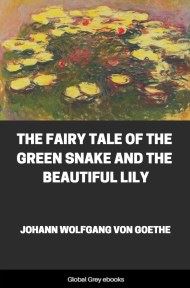 Format: Global Grey edition
Pages (PDF): 29
Publication Date: 1795
Illustrations: No
Available formats: PDF, epub, Kindle ebook
(Download links are just below the donate button)
Book Description:
The Green Snake and the Beautiful Lily is a fairy tale by Johann Wolfgang von Goethe published in 1795. The story revolves around the crossing and bridging of a river, which represents the divide between the outer life of the senses and the ideal aspirations of the human being. It has been claimed that it was born out of Goethe's reading of The Chymical Wedding of Christian Rosenkreutz and that it is full of esoteric symbolism.
---
Donate with PayPal
Donate with your credit/debit card
Support the site using your PayPal account – or pay with your credit/debit card as a guest (no PayPal account needed).


Support the site using your credit/debit card via Donorbox, using the secure payment gateway, Stripe. (Donation box will open here in pop-up – no taking you away from the site).
---