The Fairy-Faith in Celtic Countries
The Fairy-Faith in Celtic Countries
By

W. Y. Evans-Wentz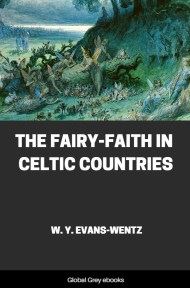 Format: Global Grey edition
Pages (PDF): 339
Publication Date: 1911
Illustrations: No
Available formats: Global Grey PDF
(Download link is just below book description)
Book Description:
Subjects include: Environment; Taking Of Evidence; An Anthropological Examination Of The Evidence; The Recorded Fairy Faith; People Of The Goddess Dana; Brythonic Divinities And The Brythonic Fairy-Faith; Celtic Otherworld; The Celtic Doctrine Of Rebirth; The Cult Of Gods, Spirits Fairies, And The Dead; The Testimony Of Archaeology; The Testimony Of Paganism; The Testimony Of Christianity; Science And Fairies; The Celtic Doctrine Of Re-Birth And Otherworld Scientifically Examined.
---
It took me about 4 hours to make this book so you could download it within seconds.
However, please remember I am but one woman trying to make a living with this site. So I expect my customers to be customers and help me out a little. Or a lot. You get the drift. Pay me…please 😀
The recommended donation for this book is £2.99, but feel free to pay more or less (or more)
I will be converting this into epub and Kindle ebook soon, but if you want it done now, contact me and I'll do it as soon as possible.
---
Related Posts