Esoteric Teachings of the Tibetan Tantra
By

C. A. Muses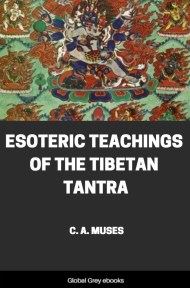 Format: Global Grey illustrated edition
Pages (PDF): 246
Publication Date: 1961
Illustrations: Yes, a few
Available formats: PDF, epub, Kindle ebook
(Download links are just below the donate button)
Book Description:
This book contains three separate, and very important, works detailing Tibetan Tantric Buddhist thought and practice: Seven Initiation Rituals of the Tibetan Tantra, The Six Yogas of Naropa, and The Vow of Mahamudra. These were translated and edited by Musés assisted by exiled Tibetan monks from manuscripts in the Library of Congress. There are some very strange passages here. There is the mysterious prophecy of Mi-Gyur-Dorje found in one of the manuscripts among the initiation rituals, which tells of a far future time when Tibet will be shattered and perscuted by demons. Naropa relates the Yoga of Entering Another's Body (which can be used to reanimate a corpse!). Naropa also discusses at some length what we call lucid dreaming, but which he calls The Practice of the Illusory Body.
---
These books take me anywhere from 2 to 10 hours to create. Only a tiny minority of people donate (less than 1%), yet thousands of books are downloaded every day. There is no big company behind this site – it is just me, and I really need the support of my visitors to help keep this site running. So if you feel I have helped you by providing this ebook, please consider making a small donation payment of £1.00 or whatever you can.. Thanks – Julie 🙂
Donate with PayPal
Donate with your credit/debit card
Support the site using your PayPal account – or pay with your credit/debit card as a guest (no PayPal account needed).


Support the site using your credit/debit card via Donorbox, using the secure payment gateway, Stripe. (Donation box will open here in pop-up – no taking you away from the site).
---