Divine Science and Healing
By

Malinda Cramer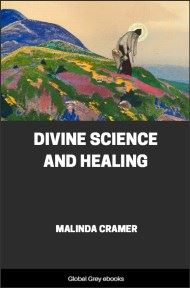 Format: Global Grey edition
Pages (PDF): 227
Publication Date: 1902
Illustrations: No
Available formats: PDF, epub, Kindle ebook and read online
(Download links are just below the donate button)
Book Description:
Malinda Elliott Cramer was a founder of the Church of Divine Science, a healer, and an important figure in the early New Thought movement. This book was originally published as Lessons in the Science of Infinite Spirit, and the Christ Method of Healing in 1890. Chapters include: Spiritual Experience In Works; The Effect of Thought; Law of Expression; Denial and Affirmation; Baptism By the Spirit; Expression of Consciousness; The Spoken Word, The Purpose of God; Heal the Sick; Facts About Healing; Faith and Belief A Unit; Overcoming Poverty; Immortality; Questions by Beginners; Theological Questions, and more.
---
It took me about 3 hours to make this book so you could download it within seconds.
Please remember, I run this site alone, and without your help, this site will struggle to continue. Small sites costs money to run too, and without your support, Amazon and other huge companies, will take over the world (probably). So please, if you have the means to do so, make a small contribution.
The recommended donation for this book is £1.99, but feel free to pay more or less (or more)
Donate with PayPal
Donate with your credit/debit card
Support the site using your PayPal account – or pay with your credit/debit card as a guest (no PayPal account needed).


Support the site using your credit/debit card via Donorbox, using the secure payment gateway, Stripe. (Donation box will open here in pop-up – no taking you away from the site).
---