The Conference of the Birds
By

Farid Ud-Din Attar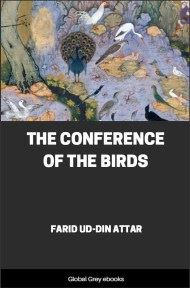 Format: Global Grey free PDF, epub, Kindle ebook
Pages (PDF): 52
Publication Date: This translation by Edward Fitzgerald, 1929
(Download links are just below the donate button)
Book Description:
This is a classic sufi text written by the Persian poet Farid Ud-Din Attar. In the poem, the birds of the world gather to decide who is to be their king, as they have none. The hoopoe, the wisest of them all, suggests that they should find the legendary Simorgh, a mythical Persian bird roughly equivalent to the western phoenix. The hoopoe leads the birds, each of whom represent a human fault which prevents man from attaining enlightenment. When the group of thirty birds finally reach the dwelling place of the Simorgh, all they find is a lake in which they see their own reflection. It is the Sufi doctrine that God is not external or separate from the universe, rather is the totality of existence. The thirty birds seeking the Simorgh realise that Simorgh is nothing more than their transcendent totality.
---
These books take me anywhere from 2 to 10 hours to create. Only a tiny minority of people donate (less than 1%), yet thousands of books are downloaded every day. There is no big company behind this site – it is just me, and I really need the support of my visitors to help keep this site running. So if you feel I have helped you by providing this ebook, please consider making a small donation payment of £1.00 or whatever you can.. Thanks – Julie 🙂
Donate with PayPal
Donate with your credit/debit card
Support the site using your PayPal account – or pay with your credit/debit card as a guest (no PayPal account needed).


Support the site using your credit/debit card via Donorbox, using the secure payment gateway, Stripe. (Donation box will open here in pop-up – no taking you away from the site).
---