The Brown Fairy Book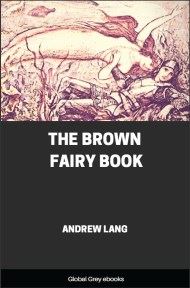 Format: Global Grey edition
Pages (PDF): 253
Publication Date: 1904
Illustrations: No
Available formats: Global Grey PDF
(Download link is just below book description)
Book Description:
Stories include: What the Rose did to the Cypress; Ball-carrier and the Bad One; How Ball-carrier Finished His Task; The Bunyip; Father Grumbler; The Story of the Yara; The Cunning Hare; The Turtle and His Bride; How Geirald The Coward Was Punished; Habogi; How the Little Brother Set Free His Big Brothers; The Sacred Milk of Koumongoe; The Wicked Wolverine; The Husband of the Rat's Daughter; The Mermaid and the Boy; Pivi and Kabo; The Elf Maiden; How Some Wild Animals Became Tame Ones; Fortune and the Wood-Cutter; The Enchanted Head; The Sister of the Sun; The Prince and the Three Fates; The Fox and the Lapp; Kisa the Cat; The Lion and the Cat; Which was the Foolishest?; Asmund and Signy; Rubezahl; Story of the King Who Would Be Stronger Than Fate; Story of Wali Dad the Simple-Hearted; Tale of a Tortoise and of a Mischievous Monkey; and, The Knights of the Fish.
---
It took me about 2 hours to make this book so you could download it within seconds.
Please remember, I run this site alone, and without your help, this site will struggle to continue. Small sites costs money to run too, and without your support, Amazon and other huge companies, will take over the world (probably). So please, if you have the means to do so, make a small contribution.
The recommended donation for this book is £0.99, but feel free to pay more or less (or more)
Donate with PayPal
Donate with your credit/debit card
Support the site using your PayPal account – or pay with your credit/debit card as a guest (no PayPal account needed).


Support the site using your credit/debit card via Donorbox, using the secure payment gateway, Stripe. (Donation box will open here in pop-up – no taking you away from the site).
I will be converting this into epub and Kindle ebook soon, but if you want it done now, contact me and I'll do it as soon as possible.
---